TONI MAKHOUL
With deep and expansive global sensibilities shaped by a unique blend of cultural influences growing up in Lebanon, multi-talented composer and instrumentalist Toni Makhoul is truly a musical citizen of the world. Drawing on a rich palette of styles ranging from pop, jazz and soul to Spanish, Latin, French and the exotic Arabic/Asian music of his Lebanese heritage, he stirs the heart with a sonic vision that begins with lush piano melodies and includes a wide array of instruments, including saxophone, percussion, guitar, bass, flute, harmonica, violin and accordion. He likens the art of creating instrumental music to the work of a visual artist, where a composition is like an abstract painting that tells new stories, evokes fresh emotions and takes the listener's imagination different places without imposing specific images or "frames" around the story.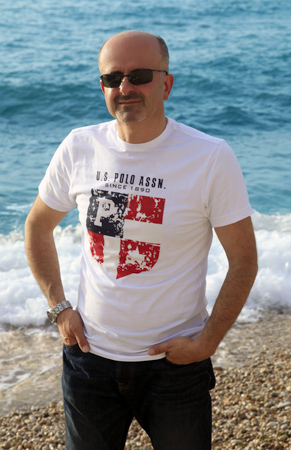 Beyond the sheer melodic beauty, rhythmic power and blend of gentle, graceful reflections with high energy celebrations and "danceability," Makhoul's diverse music expresses his vision of a better world and an overriding message of hope and possibility. In the beautiful booklet accompanying his 2014 release Dancing Hearts, he encapsulates the optimism that infuses the 14 colorful tracks with simple but powerful words: "We should replace hate with love, dispute with agreement, insincerity with truth, doubt with faith, despair with hope, darkness with light and sadness with joy. Then, no matter the distance & difference between people, their hearts will shake & will be dancing together with love."
Further, sharing is belief in the power of music to overcome all strife, he writes: "Music created with sensation & love traverses all boundaries, barriers, difficulties and connects people's hearts together, no matter who they are, where they live or what they do, as long as they are filled with love."
The theme of Dancing Hearts is an extension of the romantic vibes of Makhoul's first two critically acclaimed full length recordings, Letter To My Love (2007) and Eternal Love (2012). Having experienced the beauty and enduring force of true love, on these projects he shares the intimacy of a world, he says, "that comes alive in music and love." Their melodic and flowing, lushly arranged tunes reflect the many emotions that love entails—sadness, joy, the rapture of new love and the heartbreak of broken dreams and expectations. Pondering the mystery and magic of love, the artist needs no words to say what our hearts tells us is true: no matter the cost, it's all worth it.
Indicative of the international appeal of his instrumental music, Makhoul stated his goal for the music of Eternal Love simply—but in five different languages—in the album's liner notes: "Hoping that my music will relieve you when you feel tired and be your companion while you are in a comfortable dreamy corner with the one you love." The video for the title track, directed by Mansour Rahbani, featured Makhoul at the piano, fronting his band in a swanky, dimly lit high end club filled with colorful characters and an artfully dropped rose that gives rise to a sweet romantic fantasy. He is currently working on a video for the title track of Dancing Hearts which is reflective of the optimistic, philosophy of overcoming negativity and evil that drives the album.
Makhoul, whose liner notes include mention of where he was when the inspiration for each song hit him, brings a unique compositional process to his music. "Usually I start by humming a melody that comes to me wherever I am and under a variety of circumstances," he says. "If I have a sheet of paper, I write the notes down, and if not I will record it on my mobile phone and later develop it in my studio – but only if I still like it when I listen to it again! Inspiration can come from anything – a beautiful moment or situation, a sad story, wonderful things…I just never know. Often when I travel I have fewer things on my mind and more freedom to be creative – and am in wonderful places that lend themselves to those serendipitous moments."
Born in Baabda, Lebanon, Makhoul's musical journey started at age eight when he received his first guitar. Since that time, he discovered a new world where thought and emotion can be expressed through music. Early on, he was influenced by the music and other elements of various cultures that continue to inspire his compositions today: "In our country, we start school at age four and we start learning Arabic, French and English. We learn the English and French even better than the Arabic as most of our lessons (Math, Physics, Chemistry, …) are either in English or French while the Arabic is usually taught to us as language to read and write. This opened the door for us to understand English and French very well and therefore gave us the ability to listen and understand a wide range of music, not only the Arabic and oriental music. I believe man is the son of his environment, and I think the magic and the charm of my culture is reflected somewhere in my music."
Though he only had a year of formal guitar instruction, he started performing live during his school days, when he played his first instrument in a band of five people. They later performed in restaurants and for special occasions. When he was studying engineering, he performed a solo concert, singing and playing guitar, at the University. In 2002, a few years before releasing his solo debut Letter To My Love, Makhoul enjoyed his first recording experience with "It's Time," a musical play written and composed entirely by him); beyond his formal projects, he has been in the studio over the years recording other songs he had written as well as commercial jingles.
Unlike some recording artists who are shy about their non-musical lives, Makhoul freely discusses the fact that he holds a Masters Degree in Civil Engineering. He is grateful that his success as a partner in a prominent engineering firm has given him the financial ability to translate those melodies and musical concepts into beautifully realized studio recordings he can now share with the world.
Rather than simply compartmentalize his dual lives as "musical passion" and "day job" like many musicians do, he finds unique connections between the two: "Being an engineer allows you to know how to think, plan and act. A civil engineer takes the creative work of an architect and makes all the needed steps to achieve the creative art work of an architect. In music I am acting as an architect when I create the melody. And later when I make the instrumentation and the structure of the melody, I will be working as an engineer who has to know how to select the materials to use to achieve the desired end product."
Dancing Hearts
Building upon the romantic themes of his previous recordings Letter to My Love and Eternal Love, the 14 tracks of Toni Makhoul's powerful and sweeping recording Dancing Hearts inspire and challenge the listener to share that love in a universal way. As he says in his liner notes, "Instead of spreading violence, wars, crimes, hate, lies, dishonesty, selfishness and destroying our world, let us protect it and make it better. Let us spread love." Building upon President John F. Kennedy's famous quote, the composer and musician adds, "Ask not what the world can do for your, ask what you can do for the world."
The joy of Dancing Hearst emerges from Makhoul's keen ability to bring a wide range of musical styles and cultural influences together. He begins with a mix of haunting tones and colorful exotica on the seductive "Unforgettable Moments," then lets his piano and accordion dance around an exotic percussion groove on "Prisoner of Love." The easy grooving sax and piano driven ballad "Before You Leave" is mournful with a touch of hope, which bursts open to the joyful and whimsical flamenco dance-romance of "Mi Amor" – inspired by a trip to Barcelona. Makhoul's Latin magic continues on the festive, horn-fired fiesta "El Cielo De Mexico." He then eases down into the opening reflective piano elegance of "A New Beginning," which, true to its title, becomes a more playful and hopeful expression filled with piano and harmonica.
Makhoul in this bio explains the danceable, soaring and high energy "Surrender to Love" as a song that "leads to an unexpected place…to the music of hearts!" That place is partly propelled by a spirited accordion melody with lively piano and acoustic guitar harmonies which create a collective tropical jam vibe. Composed above the skies of New York as he arrived from Paris, "American Sunshine" is a sensual, swaying romance that starts with richly textured Latin percussion and flamenco guitar and then eases into a lower tone sax melody – for a complete look at the emotions of love. The emotional ballad "Because You Loved me" is one of Makhoul's most passionate expressions ever, starting with his gentle acoustic guitar and growing in intensity to become a flamenco fusion piece with soaring strings and a dynamic sax melody. The global fusion extends to South America on the next track the deeply grooving, funky and discofied "Brazilian Eyes," a true "carnival" of thumping joy, high energy accordion, strings, brass and guitar.
"When The Sun Set" was composed when Makhoul was watching a lovely sunset in India. Typical of such a quiet reflective moment, it features elegant strumming with a haunting trumpet harmony, lush atmospheres and a touch of harp. The final three tracks fully capture the range of dynamics that define the Makhoul experience. "Salsa Del Mundo" is a fun, energetic Latin romp with dancing piano and accordion lines, horn blasts and true salsa magic. "Deep In My Heart" is a classic piano and saxophone centered ballad – with just a touch of sax – conveying the innocence of a new romance, with just a touch of sax. The collection wraps with the title track "Dancing Hearts," a joyful and hopeful, soaring piece that beautifully and infectiously manifests Makhoul's desire to replace sadness with joy. It's the perfect parting message, a freewheeling vision of global unity that's also light on its feet.